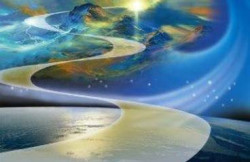 There is a path or life track where a person will find true Joy and Abundance.
Pendulums force alien goals and lure you with prestige and inaccessibility.
By chasing after false goals you either won't achieve anything or having achieved it, you will realize the futility of it and that you didn't need it in the first place.
Your true goal or purpose will turn your life into a feast. Achieving Your goal will bring about the fulfillment of all your other wishes. The results will be beyond anything you could ever have imagined. Your door is the entrance to the path that will bring you to Your Goal.
When you move towards Your goal through Your door nothing on earth can stand in your way, because the key to your Soul is the perfect fit to the lock of your door leading to Your path. No one can take what is yours. The only difficulty is to find Your goal and Your door. Transurfing teaches you how to do this...
Enjoy 
Transurfing In English.